« Shows & Personalities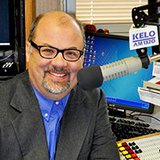 Greg Belfrage
On Air:

Weekdays, 6am - 9am

Email:

Social:
Greg Belfrage hosts three hours of news, interviews and opinions every weekday morning from 6-9am! Greg offers conservative commentary and engages listeners on the news stories and watercooler talk of the day.

Greg has received awards from the South Dakota Associated Press dating back to 1996. AP recognized Greg for hosting South Dakota's "Best Radio Talk Show" in 2002 and 2004. Greg's local notoriety also led to an invitation to guest host the nationally syndicated Mike Gallagher Show in July 2003.

Greg is a proud native of Sioux Falls and a 1981 graduate of Washington High School. Greg and his wife, the lovely and gracious Marta, have three children. He has served on his Parish Council and has been a frequent lector at St. Lambert Catholic Parish.

Greg is very active in community theatre. He serves on the Board of Directors at the Olde Town Dinner Theatre in nearby Worthing. He has appeared in numerous productions at Olde Towne, including his all-time favorite role as Oscar in Neil Simon's The Odd Couple.