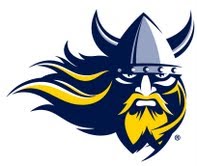 NEW ORLEANS, LA (KWSN) - Three Augustana individuals were officially named All-Americans for their performances at the NCAA Division II track and Field Championships by the US Track & Field and Cross Country Coaches Association on Tuesday afternoon.
Kyle Blakeslee and Aduo Omot are collecting their seventh overall All-American accolades and second for their senior campaign. Harald Karbo bloomed in his sophomore season earning his third All-American recognition, one for each season of competition in the 2013-14 year.
Blakeslee earned her third All-American honor in stunning fashion over the weekend, placing second in the women's 3,000-meter steeplechase for her highest individual finish yet at a national meet. The Cannon Falls, Minn. native's time of 10:13.91 broke the Augustana and South Dakota collegiate record while registering at the second-fastest time ever run at an NCAA Division II championship and is the sixth-fastest ever in Division II history. Blakeslee owns two cross country and indoor All-American finishes to add to her three steeplechase recognitions.
Omot bounced back after a redshirt season in 2013 to earn the fourth All-American accolade of his career, placing top-eight in the 800-meter run in each national meet he attended. The Worthington, Minn. native took eighth in the 800-meter run with a time of 1:50.26 and adds that to his three indoor and outdoor All-American accolades each for a grand total of seven.
Karbo earned the first outdoor All-American accolade of his career, capping off a stellar sophomore season with a third-place finish in the men's 3,000-meter steeplechase. The Stord, Norway native improved his personal best by over 10 seconds to take third at the NCAA Championships last weekend. Karbo adds a cross country All-American honor and an indoor distance medley relay All-American recognition to his outdoor accolade for his third this season.
Courtesy: Augustana College Sports Information