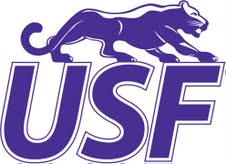 WINONA, MINN. (KWSN) –The Cougars recorded one school record and one conference title on the final day of the NSIC Outdoor Track & Field Championships in Winona, Minnesota, bringing their two day total to four school records, four NSIC Titles and five NCAA provisional qualifying marks.
The Cougar men finished 3rd in the team standings with 96 points. Minnesota State claimed the conference crown with 177 points while Augustana took runner-up with 129 points. On the women's side, the Cougars finished tied for 8th place with 49 points. U-Mary claimed the team title with 169.3 points while Minnesota Duluth finished 3rd with 127.8 points.
"For our men's team to finish third in this conference is a testament to the caliber and depth that our team has," said Director of Track and Field Reid Ehrisman. "We were a well balanced team this weekend and I'm really proud of how everybody competed."
Bobby Brockmueller and Matt Horan teamed up over the last 400 of the 5,000m Run and took the top two spots in the field with Brockmueller claiming the victory. Brockmueller crossed the tape in 14:43.74 which broke a 35 year old NSIC record while Horan ran a season best time of 14:44.31. Brockmueller also finished 3rd in the 1500m Run with his school record and NCAA provisional qualifying time of 3:51.25.
In the 800m Run, Blake Stevenson came in 4th when he crossed the line with his time of 1:54.29. Stevenson was also a member of the Cougars 8th place 4x400m Relay that finished in a time of 3:22.19. Stevenson was joined on the relay by Kaleb Lindsey-Stevens, Taylor Wensmann and Cory Eberle.
Kirsten Townley finished 4th in the Triple Jump with her leap of 36-9 (11.20m). Townley also competed in the 100m Hurdles where her and teammate Katlyn Sawtelle finished 7th and 8th respectively for the Cougars with their times of 14.71 and 14.80.
In the 400m Dash, Kendra Knight ran a 56.57 on her way to a 5th place finish. Knight also anchored the Cougars 4x400m Relay that ran a time of 3:52.23 on their way to a 6th place finish. Knight was joined on the relay by Kirsten Townley, Katlyn Sawtelle and Haley Kruger. In addition to being a member of the Cougars 4x400m Relay, Haley Kruger also finished 7th for USF in the 800m Run with her finals time of 2:20.89.
Kaleb Lindsey-Stevens finished 6th overall in the 100m Dash finals with his time of 11.03. Lindsey-Stevens also finished 6th in the 200m Dash with his finals time of 21.97 and was a member of the 5th place 4x100m Relay that finished with a time of 42.63. He was joined on the relay by Benjamin Shield, Brett Korn and Dion Helgelien.
Cougar freshman Benjamin Nelson finished 8th in the Triple Jump with his season best leap of 44-9.75 (13.66m).
Kelli Hoff came away with an 8th place finish in the Javelin Throw with her mark of 115-2 (35.11m).
"Now we have some athletes who will be competing at the National Championships and we potentially have some All-Americans," added Ehrisman. "We just need to spend these next two weeks fine tuning some things and making sure that we are healthy heading into the final meet of the year."
The Cougars will compete next at the NCAA Outdoor Track & Field Championships held in Allendale, Michigan and hosted by Grand Valley State. USF currently has two athletes who have automatically qualified for the championships while the 10 Cougar athletes who have hit NCAA provisional qualifying marks will have to wait until later this week to find out their postseason fate.
Courtesy: University of Sioux Falls