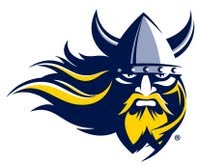 SEASIDE, Calif. (KWSN) – Augustana College women's golf concluded the Otter Invitational in Seaside, Calif. on Tuesday afternoon by shooting a 316 to finish second overall in the 15-team field at 56-over-par 632 (316-316).
Augustana finished tied with host Cal State Monterey Bay but was awarded second place for a lower team score in today's round. The Vikings moved up one spot after a third-place showing in round one with an identical round on the second day.
Finishing just three strokes ahead of the Vikings, Cal State East Bay won the tournament title with a 53-over-par 629 (311-318). Andrea Castellanos of Cal State East Bay claimed individual medalist honors with a four-over-par 148 (74-74). Augustana had two top-10 finishers at the event, with Marisa Toivonen placing sixth overall and Allie Ostrander close behind at seventh.
Toivonen shaved two strokes off her first round score of 77 to shot a 75 this afternoon and finish eight-over-par 152. Ostrander was also two strokes better this afternoon, firing a 76 to go along with her 78 in round one to finish 10-over-par 154.
Maggie Leland finished one stroke out of the top-10 finishing the 36-hole tournament with a 14-over-par 158 (77-81). Jennifer Pederson finished in a tie for 48th with a 25-over-par 169 (84-85) and Jordan Bormann placed 60th individually with a 28-over-par 172 (88-84).
Augustana returns to the course April 5-6 at the Upper Iowa Invite in Waterloo, Iowa.
Courtesy: Augustana College