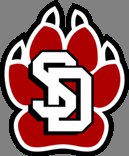 VERMILLION, S.D. (KWSN) —South Dakota will make its first NCAA Division I Tournament appearance at 5:30 p.m. Saturday against Stanford at Hilton Coliseum in Ames, Iowa, in a nationally televised contest on ESPN2.
"I am glad to finally know when, where and who so we can start our preparations," said USD head coach Amy Williams. "We are excited to head to Ames. It provides an opportunity for a lot of the fans in the area to catch the game."
The Coyotes (19-13), which earned an automatic bid by winning the Summit League Tournament six days ago, are the No. 15 seed in the Ames Region. Stanford (29-3) earned a No. 2 seed after winning the Pac 12 regular season championship. The Cardinal lost to USC in the Pac 12 Tournament and earned an at-large bid.
Should South Dakota advance to the second round, the team will face the winner of the game immediately preceding it between No. 7 seed Iowa State (20-10) and No. 10 seed Florida State (20-11). That second-round contest would be played Monday at Hilton Coliseum. Iowa State beat South Dakota 88-72 in Ames back on Nov. 13.
USD and Stanford will meet for the first time. The two programs share one common opponent in South Dakota State. The Cardinal beat the Jackrabbits 80-60 in Puerto Vallarta, Mexico, on Nov. 28. The Coyotes beat SDSU 72-58 a week ago in the semifinal round of the Summit League Tournament.
"Stanford is extremely experienced and they have played a ton of tournament games," said Williams. "They are going to be a tough foe. We understand that. But we are excited to game plan for another opponent and to have this opportunity to go and dance."
South Dakota is making its first NCAA Division I Tournament appearance in its second year of eligibility. The Coyotes qualified for eight NCAA Tournaments at the Division II level. USD finished 33-2 and was the national runners-up in 2008 – the year before the program began its transition to Division I. The Coyotes are 8-8 all-time in the NCAA Tournament.
"What do we have to lose?" asked Williams. "We are going to play loose and see what happens."
Courtesy: University of South Dakota