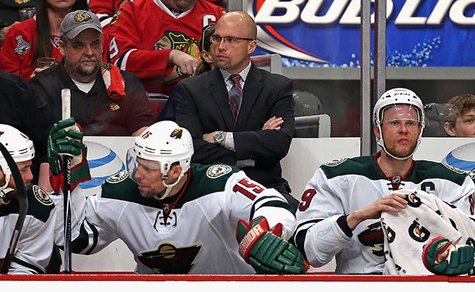 Minneapolis, MN (KWSN) – Mike Yeo was called up from the Huston Aeros (Minnesota's former AHL affiliate), in 2011 to do two jobs: win hockey games and develop talent, and so far there's no denying the results – as the Minnesota Wild have announced a multi-year contract extension for their bench boss. Terms of the deal have not been disclosed by the Wild.
While Minnesota missed out on the playoffs in Yeo's first year, the team has shown steady improvement ever since, breaking a 5 year playoff drought in 2012-13 and advancing to the second round of the Stanley Cup Playoffs this season. GM Chuck Fletcher said "Mike has done a very good job the last three seasons as our Head Coach and we look forward to his leadership going forward,"
Yeo lead the Houston Aeros to a record of 46-28-1-5 record and the Calder Cup Final in his first season as a Head Coach in 2010-11. Before being hired by Minnesota to coach their minor league affiliate, Yeo served as an assistant with the Pittsburg Penguins where he won a Stanley Cup in 2009.
Info Courtesy: Minnesota Wild