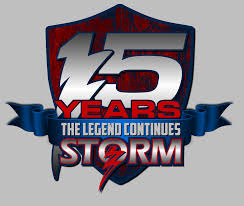 Grand Island, NE (KWSN) - Another week and another Special Teams Player of the Week honor for the Sioux Falls Storm. KR Torry Harrison has been handed the honor for Week 15 after picking up 64 yards on three kick returns in the Storm's win over the Nebraska Danger. Harrison has been averaging over 20 yards per kick return this season, good for second place in the league in that category. It's also the 5th time this season that a member of the Storm has been honored with the ST Player of the Week award.
In addition to Harrison, 3 other Storm players were named in the Player of the Week Honorable Mention category; those were QB Chris Dixion and WR Judd Harrold (offense) and LB Tyler Knight (defense). Sioux Falls will close out the home portion of its schedule on Saturday when they host the Texas Revolution at 7:05. The Storm will then complete the regular season at Cedar Rapids on June 14th.
Sioux Falls and Cedar Rapids are locked in as the playoff qualifiers from the United Conference and will meet at the Arena on June 20th in the Conference Championship game.