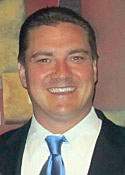 Burnsville, Minn. (KWSN) - Northern Sun Intercollegiate Conference (NSIC) Commissioner Butch Raymond is pleased to announce the hiring of Rob Kueneman as the Supervisor of Men's Basketball Officiating. Kueneman will also work as a staff assistant within the Collegiate Officiating Consortium, LLC (COC), a regional organization which will unite the officiating operations of the NSIC with those from the Big Ten Conference, Mid-American Conference, and the Summit League. Kueneman will begin his duties on July 1.
Kueneman will serve as the initial point of contact for all immediate men's basketball officiating matters within the NSIC. He will also communicate with the COC office and NSIC referees throughout the season ensuring compliance with all officiating policies and procedures. As part of his COC duties, Kueneman will be responsible for the identification, hiring, training, development and oversight of men's basketball officials for the NSIC. He will participate in conjunction with the COC in summer camps & regional clinics, integrated game assignment process, performance analysis, post-season assessment and ratings, and ongoing development of training methods. Part of Kueneman's responsiblities will be representing the NSIC at national and regional officiating meetings required by both the NCAA and the COC."The NSIC is excited to add Rob as our new coordinator of men's basketball officiating. Rob has positioned himself over the years to fit into this role perfectly. His many years of officiating as well as his experience working with the consortium makes him a great fit for our league.
The NSIC is looking forward to its new role as a member of the consortium and having Rob work with both groups," said Raymond. "We are thrilled to have Rob join the Consortium's administrative staff. He combines business administration skills, present-day officiating expertise, and on-court experience at the highest level of the collegiate game.
Rob possesses a clear understanding of the current challenges inherent to the business of collegiate officiating and is passionately committed to developing officials, establishing performance standards, effectively utilizing technology, and raising the overall level of accountability.
We feel he is uniquely qualified to run point on this new joint venture with the Northern Sun," said Rick Boyages, Associate Commissioner of the Big Ten Conference and Executive Director of the COC.Kueneman has been officiating basketball for nearly 25 years, working at all three levels of the NCAA, including the NSIC and NCAA Regional Tournaments.
Since 2011 Kueneman as has been working in the COC and from 2001 to 2011, he was the Executive Director of the Boys & Girls Club / Youth Commission in Fargo, N.D. There he was responsible for overseeing operations and organization, employing ten full time staff members and over 100 part-time employees.Kueneman received an Associates of Arts degree from the University of North Dakota-Lake Region in 1993.
He went on to earn his Bachelor of Science degree in community recreation from North Dakota State University - College of Human Development and Education in 1996. In 2003, Kueneman earned a Master's in Business Administration from the University of Mary - Fargo Center. Rob and his wife Kamie have three children, Kaden (14) Kinley (10) Kendall (5).
Courtesy: Northern Sun Intercollegiate Conference