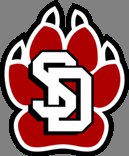 VERMILLION, S.D.—On a night when top players Taylor Braun and Marshall Bjorklund struggled to score, it was fellow senior TrayVonn Wright who totaled a game-high 20 points and pulled down eight rebounds to lead North Dakota State to a 66-63 win against South Dakota Thursday night inside the DakotaDome.
Braun, the Summit League's Preseason Player of the Year, missed 12 of his first 13 shots before hitting a game-tying jumper in the lane with a minute to go, and then giving the Bison a 64-63 lead with 33 seconds left by converting a three-point play. He finished with 11 points on 3 of 15 shooting.
Bjorklund, who averages 15 points, had fouled out by then and had six points on 3 of 11 shooting. He was held scoreless in the second half, missing all six shots he took.
Those performances enabled South Dakota (8-12, 3-3 Summit) to rebound from a 44-33 halftime deficit to take a 61-56 lead with four minutes to go. Tyler Flack scored nine points and had 10 rebounds in the second half alone. His alley-oop dunk five minutes into the half caught the attention of the 1,700 fans in attendance. His block of Bjorklund on the next possession sent them into a frenzy that lasted the rest of the way.
Flack tied the game at 55 with a 3-pointer with 8:35 left. It was part of a 15-4 USD run that spanned nine minutes. Flack made all four shots he took in the second stanza.
USD senior center Trevor Gruis scored a team-high 16 points, but missed two free throws with nine seconds left and his team trailing 64-63. Gruis was 8 of 8 from the stripe at that point, but all of those came in the first half.
Wright rebounded the second miss, was fouled immediately and made both free throws on the other end.
Working without a timeout, it was Brandon Bos who lifted a 3-pointer with four seconds left. It was blocked by Chris Kading and tipped out to USD guard Adam Thoseby who gained control and fired a deep, desperation 3 at the buzzer that went halfway down before rattling back out. Thoseby was 3 of 3 from beyond the arc at that point and finished with 11 points.
The Bison (16-5, 5-1) entered as the top shooting team in the nation at 51 percent, but they made 7 of 26 shots in the second half and shot 39 percent for the game, their worst outing of the season. A first-half performance that included 12 points from Wright and eight points each from Lawrence Alexander and reserve big man Jordan Aaberg gave the Bison enough of a cushion to hold on for their fifth consecutive win.
The Coyotes will have one day to rebound from their first loss at home since Dec. 2. South Dakota hosts rival South Dakota State at 4 p.m. Saturday at the DakotaDome.
Bryan Boettcher