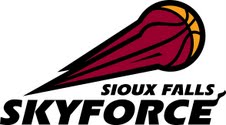 RENO, NV (KWSN) – The Los Angeles D-Fenders defeated the Sioux Falls Skyforce 116-109 at NBA D-League Showcase presented by Samsung Galaxy.
Brandon Costner came off the bench to score a game-high 24 points and grab seven rebounds. James Southerland recorded 21 points on 9-of-15 shooting in the winning effort for Los Angeles. NBA D-League Performer of the Week, Manny Harris tallied 18 points and four rebounds.
Following a disappointing showing in their showcase opener vs. the Bakersfield Jam, the Skyforce came out strong and took a 36-23 lead in the second quarter. Anthony Mason came off the bench and sparked Sioux Falls, tallying 13 points in the first half and finishing with 17 points and seven rebounds for the game.
Justin Hamilton recorded a double-double with 20 points and 12 rebounds to pace Sioux Falls.
Los Angeles battled back in the third quarter, scoring 41 points and recapturing the lead when Jamario Moon connected on a 3-pointer at the 10:13 mark. The shot was part of a 13-0 run by the D-Fenders that opened up a 71-62 lead.
Los Angeles saw their lead grow to 17 when Costner connected on a 3-pointer to take a 108-91 lead with 8:47 to play in the fourth quarter. The D-Fenders did not look back the rest of the way and secured the win in their showcase opener.
Sioux Falls has completed their showcase stint and will return to action on Friday when they travel to take on the Tulsa 66ers at 8 P.M. EST. Los Angeles will conclude their showcase slate on Tuesday at 10 P.M. EST versus Tulsa.
Courtesy: Sioux Falls Skyforce