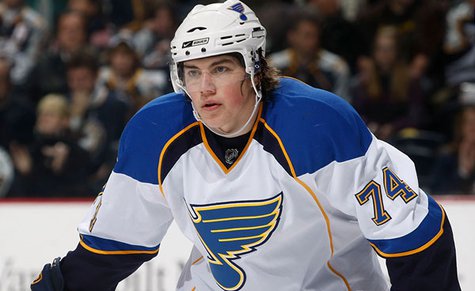 Sioux Falls, SD (KWSN) -USA Hockey announced Wednesday afternoon that former Stampede forward T.J. Oshie has been named to the 2014 U.S. Olympic Men's Ice Hockey Team. He is one of 25 players on the roster that will represent the United States at the Olympics in Sochi in February. He becomes the first ever former Stampede player to play for Team USA and the first ever former player to make an Olympic squad. Oshie skated with the Herd during the 2004-05 season.
Oshie, 27, will be representing the U.S. for the fifth time in his career and the first at the Olympics. The Everett, Washington native appeared at the 2006 World Juniors as well as the 2009, 2010 and 2013 World Championships. He is currently in his sixth season in the NHL with the St. Louis Blues and ranks second on the team with 33 points including 27 assists, which shares ninth among all skaters.
In addition, among players that average over 15 minutes of even strength ice time per game (70 players), Oshie is one of 12 (along with Backes and Alexander Steen) that also average over 1:30 of shorthanded time and 2:00 of power-play time per game.
Overall, Oshie has dressed in 331 games during his six-year NHL career, accumulating 228 points (76 goals, 152 assists) and 160 penalty minutes. After playing in Sioux Falls, Oshie played from 2005 to 2008 at the University of North Dakota. He was selected 24th overall by St. Louis during the 2005 NHL Entry Draft.
Courtesy: Sioux Falls Stampede