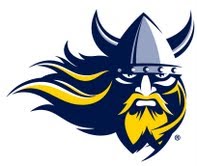 SIOUX FALLS, S.D. (KWSN) – Augustana College softball dropped seven spots and is now ranked 24th in the National Fastpitch Coaches' Association Top 25 poll the organization announced Wednesday.
The Vikings are one of three NSIC teams ranked in this week's poll. Augustana was ranked 17th last week after spending the previous two weeks ranked 13th. Minnesota State is ranked eighth and Winona State is 20th in the latest poll.
The Vikings are coming off a spit at Upper Iowa on Tuesday night. Augustana won the opener 6-5 after an RBI single by Jenelle Trautmann in the top of the seventh inning. Upper Iowa got a walk-off solo home run in game two to win game two 1-0 and split the series.
Augustana closes-out the regular season on the road this weekend traveling to North Dakota for a pair of doubleheaders.
The Vikings open the weekend at Minot State on Saturday at 1 p.m. before playing the University of Mary at 12 p.m. on Sunday in Bismarck, N.D.
Courtesy: Augustana College