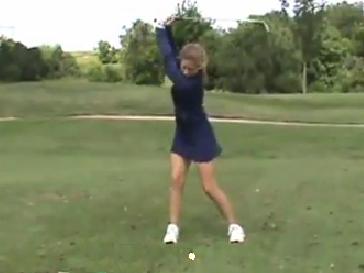 Sioux Falls, S.D. (KELO AM) - While most high school students in Sioux Falls were enjoying their three-day weekend, the girls golf teams were at Prairie Green playing round two. After a beautiful Easter Sunday, the wind and cold waited for Monday to welcome the golfers.
Despite the elements, O'Gorman's Myla Brown shot a 78 to take the overall lead in the tournament. O'Gorman's Elle Carlson and Lincoln's Abby Gravlos tied for second with 84.
The final round of the tournament will be May 5, at Elmwood.
School standings after round two are:
O'Gorman - 661
Lincoln - 777
Washington - 779
Roosevelt - 826
Team Player Prev. Total O'G Myla Brown 78 80 158 O'G Elle Carlson 84 78 162 SFL Abby Grevlos 84 80 164 O'G Kelsey Johnson 89 80 169 O'G Meredith Turner 87 85 172 SFR McKayla Poppens 84 89 173 O'G Jamie Benedict 91 88 179 SFW Ashlee Eggebraaten 93 87 180 O'G Emily Olson 94 91 185 SFL Jesse Rames 95 93 188 SFW Rachel Horner 108 90 198 SFW Sarah Nolan 108 94 202 SFL Ashley Reiter 106 97 203 SFW Rachel Dieger 105 99 204 SFR Kiesha Voges 99 108 207 SFW Carly Knuston 109 102 211 SFR Madisyn Waltmann 107 107 214 SFW Kelsie Massman 114 104 218 SFL Makayla Wooledge 121 101 222 O'G Skyler Stencil 118 111 229 SFL Hanna Leddiard 121 109 230 SFR Taylor Sudenga 113 118 231 SFL Julia Mitchell 114 122 236 O'G Abbi Bell 130 113 243 SFR Kate Nugteren 132 120 252