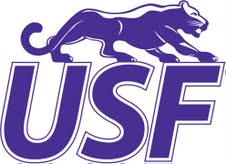 SIOUX FALLS, S.D. (KWSN) – The USF men's golf team improved on day two of the NSIC Fall Championships, shooting a 325 (+37) in the second round of the championships. After the Fall Championships, the Cougars sit in 10th place with a team score of 663 (+87).
USF has been led by Derek Dillon who showed a drastic improvement from day one to day two of the tournament. Dillon followed up his day one 86 with a day two 76 giving him a combined score of 162 (+18). He finished the fall portion of the championships in a tie for 26th place. Josh Atkins compiled a score of 164 (+20) over the two day event. Atkins finished the day in a tie for 32nd place.
Andrew Nelson (166, +22), Jon Van't Hul (171, +27) and Ben Loosbrock (186, +42) rounded out the Cougars finishers. After the Fall Championships, St. Cloud State holds a 15 stroke lead over second place Minnesota State.
The 2013-14 NSIC Men's Golf Championship consists of 72 holes with 36 being played in the fall and the final 36 holes played in the spring.
Courtesy of University of Sioux Falls