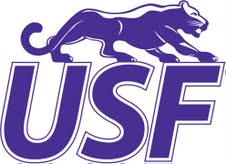 SPOKANE, WASH. (KWSN) –The USF men's cross country team competed in the NCAA Division II National Championships for the first time in school history and came away with two All-American performances and a top 20 team finish. The meet was held in Spokane, Wash. at the Plantes Ferry Sports Complex.
"We started off a little conservative, but moved up throughout the race," said head coach Grant Watley. "For our team to finish 18th when we were ranked 25th coming into the meet is big accomplishment for us as a team."
The Cougars were led by Bobby Brockmueller who earned his first NCAA All-American honors with his 37th place finish. Bobby completed the 10k course in a time of 31:13.0 and moved up 54 spots in the final 5k of the race with his 5k split of 15:34.4.
"We knew coming into the race that it would go out fast, but we started back a little bit and we just knew that people would come back to us if we had a strong second half," said Bobby Brockmueller. "This is going to be a huge stepping stone going into next year as we return everyone from this year's team."
Bobby was followed by his brother Billy Brockmueller who also earned All-American honors with his 39th place finish. Billy ran a 31:16.3 including a 15:43.1 for the last 5k of the race where he moved up 31 spots.
"The 10k is a long race and a lot can happen that second half of the race," said Billy Brockmueller. "I wouldn't have run as fast if he (Bobby) wasn't there passing me and pushing me through the last quarter mile of the race."
Matt Horan was in next for USF as he finished 77th overall with his time of 31:52.8. Ethan Tabbert (33:37.2) and Cody Herman (33:43.2) came in together for the Cougars as they finished in 200th and 202nd place respectively. Austin Hogie was the final Cougar athlete to cross the line as he finished 241st overall with his time of 35:42.5.
The meet wrapped up an impressive 2013 season for the Cougar men as they finished 2nd at the NSIC Championships, 5th at the NCAA Central Regional and 18th at the NCAA National Championships.
Courtesy: University of Sioux Falls