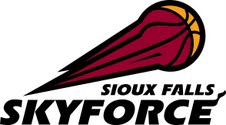 Sioux Falls, S.D. (KWSN) – The Sioux Falls Skyforce defeated the Reno Bighorns 86-85 in the first-ever game at the Sanford Pentagon Friday night. Sioux Falls led by as many as 18 points but needed a defensive stop in the final seconds to preserve the victory.
Sioux Falls (1-0) got off to a quick start and led 30-16 after the first quarter. Reno (0-1) outscored Sioux Falls 28-19 in the second quarter to cut the deficit to 49-44 at halftime. Quincy Douby scored 17 of his game-high 29 points in the opening half.
Sioux Falls went ahead by 18 points (66-48) midway through the third quarter but Reno responded with a 16-3 run and trailed by just five points (69-64) heading into the final quarter. Sacramento Kings assignee Ray McCallum made a 3-pointer with 4:25 to go in the contest to tie the game and then converted a lay-up with 2:23 to go to give Reno its first lead of the game at 83-81. Douby answered with a 3-pointer and Ryan Evans made a jump shot to push the lead back to three points (86-83). Reno trailed 86-85 with 0.3 seconds left but the alley-oop pass was swatted away and Sioux Falls came away with the win.
Ryan Evans recorded 21 points and six rebounds. A.J. Davis posted a double-double in his professional debut with 10 points and 11 rebounds.
McCallum recorded team-highs in both points (28) and rebounds (7). Trent Lockett posted 14 points and five rebounds while DeQuan Jones added 11.
The same two teams will face each other again tomorrow (Saturday) night at the Sanford Pentagon at 7 p.m. CT.
Courtesy: Sioux Falls Skyforce