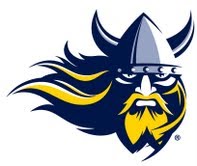 MARSHALL, Minn. (KWSN) - Missed opportunities handed Augustana (20-7) a 3-1 loss at the hands of No. 8 Southwest Minnesota State (21-6) in a Tuesday night non-conference matchup.
Augustana tallied 14 blocks on the night, limiting SMSU to a .172 (56-27-169) attack percentage, but could only manage a .188 (51-20-165) mark themselves.
Kayla Wallerich scooped up 19 digs to contribute to the Vikings' defensive night.Courtney Ysker led the Vikings with 15 kills, tallying 11 in the final two sets, and Holly Hafemeyer hit 14, but an uncharacteristic seven kills. The Vikings jumped out to an early lead on the back of strong defense with a 25-15 win in the first set.
Augustana's 18 digs and three blocks held the Mustangs to a .077 (10-7-39) attack percentage while five different Vikings notched a kill.Southwest Minnesota State evened the match with a 25-23 win in the second. Hafemeyer's four kills weren't enough as the Vikings only managed nine as a team in the second set. The Vikings did much of their scoring from their front-row defense adding six more blocks in the second set alone.
Augustana held off two set points in the third set, but couldn't capitalize on their own as the Mustangs took set three 28-26. Cech tied the set at 24-24 with a kill on an over ball from SMSU. The two teams then traded points before the Mustangs were able to string two together and take a 2-1 lead.
The Vikings held a 17-13 lead in the fourth set, but a service error led to nine straight SMSU points and the Mustangs ran away to a 25-20 fourth-set win. Ysker and Hafemeyer combined for 11 kills in the final set, but couldn't manage to pull out a win.
Augustana stays on the road with matches at Minot State on Nov. 15 at 7 p.m. and U-Mary on Nov. 16 at 6 p.m.
Courtesy: Augustana College