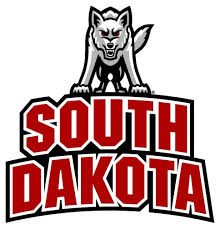 VERMILLION, S.D (KWSN) - South Dakota softball had five athletes named to the 2013 All-Summit League teams according to a release by the league on Wednesday. Yvon Minogue, Matley Jones and Katie Cochran were all named to the First Team.
Minogue, a freshman from Santiago HS in Corona, Calif., was selected as the First Team first baseman after leading the team and placing fifth in the Summit League with a batting average of .372 and 51 hits. She was third in the league with 39 RBIs while also turning in nine doubles, six home runs, 18 walks and 17 runs scored. Minogue finished the regular season with 13 multi-hit games and 10 multi-RBI games.
Jones, a sophomore from Lincoln, Neb., was voted to the First Team as a second baseman. A transfer from Augustana (S.D.), Jones was second on the team with a batting average of .325. She was at her best late in the season, batting .345 in Summit League action and .429 in the month of April. She had an eight-game hitting streak from April 5 to April 27 and had 12 multi-hit games.
Cochran, a freshman from Coronado HS in Las Vegas, Nev., was the First Team utility player. She hit .256 with 22 runs and 16 RBIs. Of her 31 hits, four were doubles, one was a triple and two were home runs. She had seven multi-hit games and had the game-winning RBI in the Coyotes' home opener against North Dakota on April 2.
Katie Dinning and Erica Denney were both named to the Second Team. Dinning, a sophomore center fielder who attended Millard South HS in Omaha, Neb., was fourth in the league with 33 runs scored and held a batting average of .323 on 50 hits, including eight doubles, two triples and 11 RBIs. She hit .348 in league play and also took 15 walks and stole seven bases. Dinning is in the middle of a six-game hitting streak and has 12 multi-hit games on the season.
Denney, a senior pitcher from North HS in Sioux City, Iowa, went 17-7 with a 2.15 ERA in 25 starts. The reigning Summit League Pitcher of the Week, Denney's win total ranks 80th nationally and fourth in the league. In 175 2/3 innings of work she struck out 113 batters and threw 22 complete games, two of them shutouts. She went 20 straight innings without allowing a run between March 16 and April 2 and had nine games with six or more strikeouts.
South Dakota (29-18, 12-7 SL) will take on Fort Wayne at 4 p.m. on Thursday in the opening round of the Summit League Softball Championships.
2013 All-Summit League Awards
First Team
C – Jenina Ortega, North Dakota State
1B – Yvon Minogue, South Dakota
2B – Matley Jones, South Dakota
3B – Ashleigh Bousquet, Fort Wayne
SS – Sammy Marshall, Western Illinois
OF – Larissa Franklin, Fort Wayne
OF – Allie Mathewson, Omaha
OF – Emily Ott, Kansas City
DP – Katie Kelley, Kansas City
UTL – Katie Cochran, South Dakota
P – Miranda Kramer, Fort Wayne
P – Whitney Johnson, North Dakota State
Second Team
C – Campbell Ditto, Omaha
1B – Amber Lutmer, Omaha
2B – Cheyenne Garcia, North Dakota State
3B – Amanda Grable, North Dakota State
SS – Alex Bousquet, Fort Wayne
OF – Katie Dinning, South Dakota
OF – Karissa Kouchis, Western Illinois
OF – Devon Reick, South Dakota State
DP – Alex Pflieger, Western Illlinois
UTL – Brandi Enriquez, North Dakota State
P – Erica Denney, South Dakota
P – Dana Elsasser, Omaha
Player of the Year: Sammy Marshall, Western Illinois
Pitcher of the Year: Whitney Johnson, North Dakota State
Freshman of the Year: Campbell Ditto, Omaha
Coach of the Year: Darren Mueller, North Dakota State
Courtesy: University of South Dakota