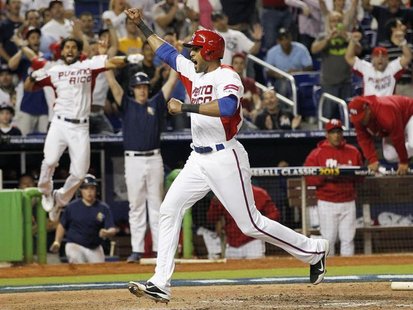 (Reuters) - Puerto Rico rallied for three runs in the bottom of the eighth inning to overtake Italy for a 4-3, do-or-die victory in Miami that kept them alive in the World Baseball Classic on Wednesday.
Alex Rios raced around to score from second base on a two-out infield single for the game-winning run.
Italy, just as they had on Tuesday in a heart-wrenching loss to the Dominican Republic, jumped out to a big lead but could not hold on as they were eliminated from the tournament with their second loss of the second round.
"We had to take advantage of everything we had," said Rios, a Chicago White Sox outfielder. "There were two outs on that play and I had to just keep running.
"We never quit. That eighth inning tells you a lot about our attitude."
Puerto Rico will play the loser of Thursday's marquee showdown between the United States and the Dominican Republic for a berth in the semi-finals starting in San Francisco on Sunday. The U.S.-Dominican winner will claim the other spot.
Two-time defending champions Japan and the Netherlands have already clinched the other two berths in the semis.
Poor fielding by the Italians helped Puerto Rico back into the game after a booming bases-loaded double by Anthony Rizzo gave Italy a 3-0 lead in the fifth inning in support of a strong performance by starter Alex Maestri.
Two errors by Italy shortstop Anthony Granato allowed an unearned run to score in the sixth to make it 3-1.
Puerto Rico strung together four hits in their eighth-inning rally off four relievers, but were helped by a poor decision by center fielder Chris Denorfia, who made a futile throw to home on a sacrifice fly by Luis Figueroa that tied the game, allowing Rios to move up to second base.
Andy Gonzalez then hit a grounder to deep short and defensive replacement Jack Santora threw low and wide to first base and Rios sprinted around to score the go-ahead run.
"That's a tough team over there," shortstop Mike Aviles said about the Italians. "They battled us the whole game. Every time we had people in scoring position their pitchers beared down and kept us off balance. I definitely tip my cap to Italy."
Hiram Burgos got the win with three and two-thirds innings of shutout relief, while Fernando Cabrera picked up the save by striking out Alex Liddi for the final out.
(Reporting by Larry Fine in New York, Editing by Amlan Chakraborty)