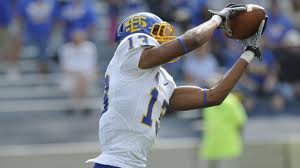 Sioux Falls, SD (KWSN) - Former Brandon Valley and South Dakota State University standout Dale Moss is on the move again. This time he's heading to North Carolina as the newest member of the Carolina Panthers, after being released by the Chicago Bears on June 10.
Originally an undrafted free agent, Moss signed a practice squad deal with the Green Bay Packers prior to the 2012 season before spending time with the Tampa Bay Buccaneers and Chicago Bears.
Moss has yet to know his role on the team and said that will likely be decided when the Panthers report to training camp in July.