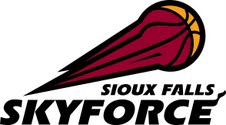 PORTLAND, Maine (KWSN)—The Maine Red Claws (5-3) held the lead for the first 34 minutes before Sioux Falls (7-2) took command of the game in the third, downing Maine 92-88 at the Portland Expo Building Friday night. Maine started out strong in the first quarter, scoring the first five points of the game. Mid-way through the period, three consecutive dunks from Romero Osby, Chris Wright, and Ty Walker paced a 7-0 run for the Claws. Play was even throughout the second quarter as the two teams traded baskets consistently. Justin Hamilton of Sioux Falls and Kammron Taylor of Maine both posted 11 points during the quarter as the Red Claws took a 56-51 lead going into the half. Charlie Westbrook totaled nine points in the third quarter alone to help Sioux Falls take their first lead of the game with 2:02 remaining. This helped the Skyforce erase a five-point halftime deficit and go into the fourth quarter leading 78-77. Marcel Anderson provided a spark for Maine in the third, scoring six points off the bench to keep the Red Claws in the game.
Both teams were on pace to score one-hundred points through three quarters, but a combination of defensive intensity and turnovers led to a low scoring fourth quarter. Maine totaled nine turnovers in the fourth quarter alone, halting their chance of a comeback. Four Sioux Falls players scored in double figures in the contest. The Skyforce were led by Hamilton (23 points, nine rebounds), Henry Walker (21 points), Charlie Westbrook (14 points), and DeAndre Liggins (13 points, eight rebounds). Former Red Claw Chris Ayer also added nine rebounds for Sioux Falls. Maine was paced by Frank Gaines with 23 points and eight rebounds. Chris Wright posted his third double-double of the season with 16 points and 10 rebounds. In his first start, Kammron Taylor added 19 points and three steals. Ty Walker grabbed 14 rebounds and blocked five shots .
Sioux Falls travels to Springfield tomorrow to face off against the Armor at the MassMutual Center at 6 p.m.
Courtesy: Sioux Falls Skyforce; Maine Red Claws