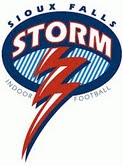 Sioux Falls, SD (KWSN)- The Storm is excited to announce the re-signing of two key offensive players, Martevious Young and Tory Harrison.
Young, 6'2"--190lbs, began the 2013 season as the starting quarterback for the Storm. Just weeks into the season, Young was sidelined with a torn MCL. This spurred the mid-season signing of legendary Storm QB, Terrance Bryant.
Once Young returned from his injury, the Storm turned to a two-QB attack. This featured the veteran leadership and arm of Bryant, combined with the speed and athleticism of Young. T
he combo eventually led the Storm to their seventh Indoor Football League Championship. In seven games, Young threw for 455 yards and 7 touchdowns, while running for 175 yards and 13 touchdowns.
Young played college football for the University of Southern Mississippi."Tay was tremendous last year," said Head Coach Kurtiss Riggs. "But he only showed a small offering of what he is capable of doing."
Tory Harrison, 5'11"-- 200lbs, also proved to be a vital part of the Storm offense in 2013. Harrison revitalized the Storm's running back position with a combination of power and speed. Harrison compiled 595 rushing yards and 16 touchdowns.
He also proved to be a receiving threat out of the backfield. Harrison tallied 41 receptions, totaling 293 yards and 2 touchdowns. Harrison was a teammate of Young's at the University of Southern Mississippi.
Head Coach Kurtiss Riggs quoted, "Tory was the catalyst of the offense last year. He was able to take over games from a position that is difficult to do in the indoor game."
Courtesy: Sioux Falls Storm