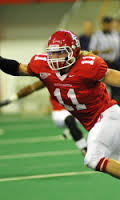 VERMILLION, S.D. (KWSN)—South Dakota senior linebacker Tyler Starr has been named a first-team All-Missouri Valley Football Conference player as selected by a panel of coaches, sports information directors and media. In addition, three Coyotes earned honorable mention honors and four were named to the conference's All-Newcomer Team.
Starr (Little Rock, Iowa/George-Little Rock HS) was a shoo-in to earn first-team honors after being named MVFC Defensive Player of the Year last Wednesday. Starr is also a finalist for the Buck Buchanan Award which honors the FCS top defensive player.
Starr is the nation's active career leader in forced fumbles with 13. He is also second in solo tackles for loss with 39 and fourth in total sacks with 27. He earned those achievements in just three years of play.
This season, Starr led the MVFC in sacks (9.0), tackles for loss (15.0) and forced fumbles (4). He finished second on the team in tackles with 71. He also had an interception and was credited with four pass breakups.
South Dakota placed a conference-high four players on the 22-man All-Newcomer Team. Freshman wide receiver Riley Donovan and redshirt freshman running back Trevor Bouma represented the offense while junior linebacker Auston Johnson and senior cornerback Jarrid Bryant represented the defense. Youngstown State running back Martin Ruiz was named Newcomer and Freshman of the Year.
Johnson was one of three Coyotes who received honorable mention. Joining him was senior offensive center Cody O'Neill and senior tight end Tyler Wilhelm.
Information on all of the honorees follows:
Riley Donovan (Kasson, Minn.) was the Coyotes' leading receiver with 553 yards despite not having his redshirt removed until the fourth game of the season. He finished with the fourth-most receiving yards in MVFC play. Donovan averaged 18.6 yards per catch, which was the second-highest average in the conference. He had three 100-yard receiving efforts including a season-high 178 yards and two touchdowns in a double-overtime victory at UNI
Trevor Bouma (LeMars, Iowa) was the Coyotes' leading rusher this season with 781 yards, which ranked ninth in the conference. He had three 145-yard efforts on the season including a season-high 149 yards in a double-overtime victory at UNI. Bouma also finished third on the team with 27 catches.
Auston Johnson (Chico Hills, Calif.), who transferred to USD from El Camino College prior to the 2013 season, led the MVFC in sacks with seven in eight conference games. He was also second in the league in tackles-for-loss with 10.5. Johnson was the starting inside linebacker for a team that led the conference in sacks. His 69 tackles ranked third on the team.
Jarrid Bryant (Corona, Calif.), who transferred to USD from Arizona State prior to the 2013 season, finished the season with 39 tackles (25 solo), two interceptions and two tackles-for-loss. He was the starting cornerback for the 10th-best pass defense in the nation and a unit that finished second in the MVFC in interceptions.
Cody O'Neill (Harvard, Ill.) was one of four team captains for the Coyotes this season. He started all 12 games at center for a team that led the conference in passing and ranked fifth in the conference in total offense (344 ypg).
Tyler Wilhelm (Loxahatchee, Fla.) was one of three Coyotes who surpassed 300 yards receiving. Wilhelm caught 22 passes for 336 yards for an average of 15.3 yards per catch. He had four games of at least 50 yards receiving, including a 68-yard effort against South Dakota State. Wilhelm also factored into the running back where the Coyotes averaged 144 yards a contest.
Courtesy: University of South Dakota