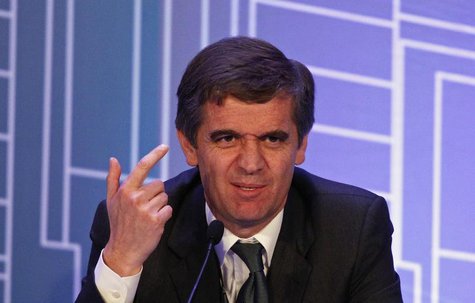 SANTIAGO (Reuters) - Chile's central bank said on Tuesday that better oversight is needed for companies that have both financial and non-financial operations, noting that worries over "one bank's" financial situation had hit the bank's securities and pushed up its cost of borrowing.
The central bank did not identify the bank.
But the comments follow problems recently faced by CorpBanca and the bank's holding company, CorpGroup.
CorpGroup, owned by Chilean billionaire Alvaro Saieh, has been putting assets on the chopping block following millions of dollars in losses racked up by its retail unit SMU.
CorpBanca confirmed on Friday that it is studying a possible merger with a local or foreign bank, a deal that could reportedly be worth around $5 billion.
SMU has also been selling assets to raise cash after an accounting error led it to breach debt covenants earlier this year.
"Without conglomerate oversight, it is crucial to maintain and perfect a regulatory framework that keeps crossed exposures to a minimum," the central bank said in its semi-annual Financial Stability Report.
In citing worries over "one bank's" financial situation, the central bank said the unidentified bank's interest rates had "become misaligned with their historical pattern in the short-and-long-term wholesale market... despite its solid position of solvency," it said.
This situation has started to normalize in the fourth quarter, the central bank added.
CorpBanca's Santiago-listed shares hit an all-time low in August but have since risen around 40 percent, boosted in recent days by the merger reports.
In August, Moody's Investors Service placed CorpBanca's ratings on review for downgrade, citing "the growing uncertainties regarding the effects on the bank's institutional funding and earnings performance of developments at its sister company, SMU."
Representatives at CorpBanca were not immediately available for comment.
(Reporting by Anthony Esposito; Editing by Leslie Adler)