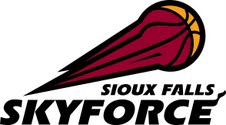 Sioux Falls, S.D. (KWSN) – The Sioux Falls Skyforce defeated the Iowa Energy 108-98 Saturday night at the Sanford Pentagon. Sioux Falls played just seven players because of injuries but was able to earn a weekend split.
Sioux Falls (3-1) trailed 25-19 after the first quarter but outscored Iowa 26-22 in the second quarter to go into halftime down 47-45. DeAndre Liggins scored 17 of his team-high 28 points in the first half.
A.J. Davis scored 14 points in the third quarter as Sioux Falls led 75-73 heading into the final stanza. After Othyus Jeffers converted a jump shot to give Iowa (3-1) a three-point lead (90-87) with 4:22 to go, Justin Hamilton made three straight 3-pointers to give Sioux Falls a 96-92 lead with 2:39 left. Sioux Falls made 10-of-11 free throws down the stretch to avoid the weekend sweep.
Hamilton had a monster double-double with 26 points and 19 rebounds. Liggins had a solid all-around game with 28 points, four rebounds, five assists and four steals. Davis scored 21 points while Bill Walker contributed 18 points and 12 rebounds.
Jeffers scored a game-high 29 points to go along with 16 rebounds and five assists. Jarvis Varnado posted 15 points, seven rebounds and four blocks while Kalin Lucas added 14 point and four assists in defeat.
Sioux Falls visits Tulsa Thursday at 11 a.m. CT. Iowa visits Erie Friday night at 6 p.m. CT.
Courtesy: Sioux Falls Skyforce