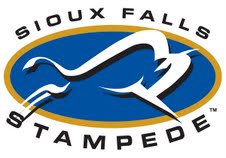 Sioux Falls, SD (KWSN) —The Sioux Falls Stampede announced today that tickets for Game 3 of the Western Conference Finals are on sale now at the Sioux Falls Arena Box Office or any Ticketmaster location. Due to the circus being in town, the Stampede will play Games 1 and 2 of the series on the road, but return to the Sioux Falls Arena next Thursday, May 2nd at 7:05 PM. The Herd will play either Waterloo or Lincoln in the conference finals. Waterloo and Fargo face each other tonight in Game 5 of their series and the winner will host Sioux Falls this Friday.
Stampede broadcaster Jim Olander joined Sports Talk with Craig and Chris Wednesday and discussed the series win over Lincoln.
A limited number of tickets for Game 3 are just $6 each! Click here to download the form to take advantage of the $6 tickets!
Should there be a Game 4, that would be played at the Sioux Falls Arena on Sunday, May 5th at 5:05 PM and, if necessary, Game 5 would be on Wednesday, May 8th in Sioux Falls. Those tickets will not go on sale unless those games are necessary.
Check back to www.sfstampede.com on Thursday for the complete Western Conference Finals schedule once an opponent has been determined.
Courtesy: Sioux Falls Stampede